M2 Spray Analyzer

Optical fiber Doppler probe for accurate measurements of
Droplet size, droplet velocity and liquid fraction
contact us
Explore very dense sprays
and collect data from
difficult-to-measure places
The M2 Spray Analyzer performs local measurement of droplet size and velocity. The system is composed of an optical fiber Doppler probe, immersed in the flow, a remote electronic unit and a software application for processing and analysis. Data processing can be done in a fully assisted manner in most cases but can also finely tuned for better control in complex situations.
Size
Down to 5 μm
No upper limit

Operating conditions
From cryogenic temperature up to 250°C
Up to 100 bars
Suitable for non-transparent liquids
Setup
Up and running in minutes
download datasheet
OFDP: more than the sum of its parts
The Optical Fiber Doppler Probe technique designed by A2 Photonic Sensors is the fruit of more than 25 years of research. It results from the combination of phase optical probes with laser Doppler velocimetry. A micrometric sensor head is manufactured at the tip of an optical fiber. Once immersed in the spray, the optical fiber probe acts as both the laser emitter and light detector, and will measure all droplets reaching its tip. The miniaturized size of the sensing part guarantees a very low disturbance to the flow, hence a high accuracy of the measurement.
Software and data processing
Simple and fast automated processing or advanced in-depth analysis
Optional acquisition triggering
Full access to raw data
Size and velocity distributions, size/velocity correlation
Easy data export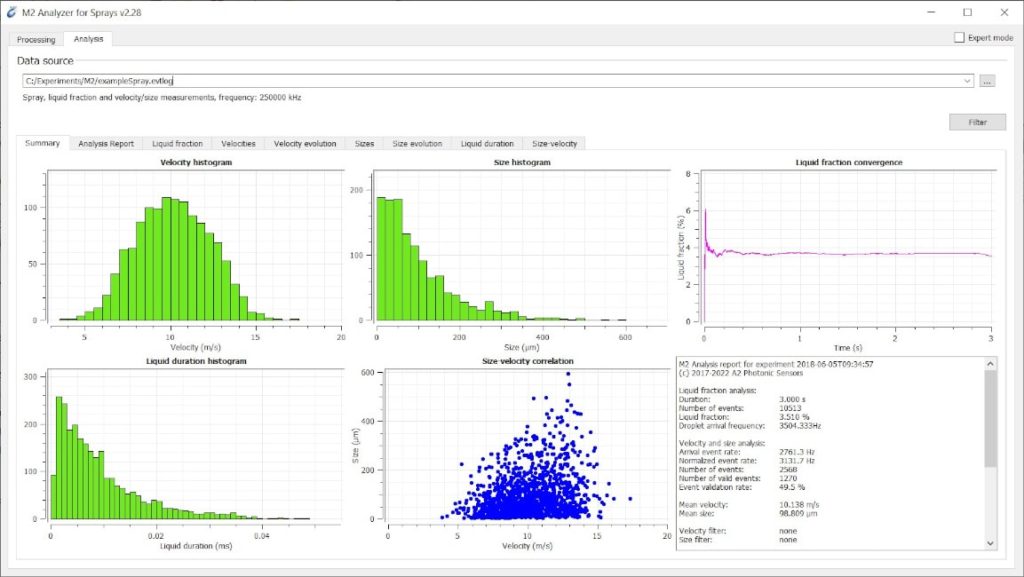 Designed for a wide variety of applications, from fundamental research to industrial R&D
Spray nozzle for turbomachinery
Atomization fundamental study
Agricultural spraying
Spray for fire safety
download App cases
Rain in climatic wind tunnel
Spray drying
High pressure cleaning
Spray painting